The BOTNATION AI team participated on November 9, 2017 in David Marcus Vice President of Messenger at Facebook's "Ask Me Anything" #AMA conference with Nicola Mendelsohn Vice President EMEA. This event was organized by Station F.
For 45 minutes, David Marcus presented the latest innovations of Messenger and was able to answer questions from the audience during a round table discussion moderated by Marwan Elfitesse.
➜ Discover Botnation and launch your chabot easily!
Here's what we learned from David Marcus' #AMA:
Payment via Messenger
"50% of French people still use checks for P2P payments. The digitalization of payments is essential, and that's why emulation between mobile payment apps and other brands is essential. Cash and checks are the enemy and there is plenty of room in the market for multiple players."

"We are working to enable B2C and B2B payments directly on Messenger. This is already the case in the United States. France is a priority, in 2018 the payment will be implemented."

The suggestions provided by the M assistant are available in French, the team in charge of M is 98% French.
Voice messages
"Using voice as an interface is absolutely perfect for two places: at home and in your car. For the rest, we're more into multi-tasking and using our voice can be uncomfortable hence a preference for text."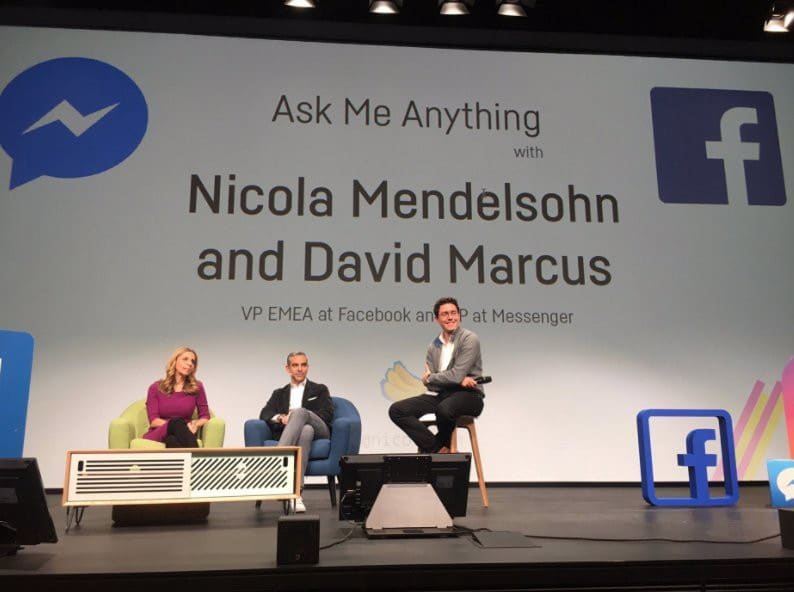 Relationship between the media and Messenger
"The interaction between media and Messenger is evolving. The Wall Street Journal has done something great lately by covering live events via Messenger. It makes it feel like you've got a friend who's watching something important live."

Whatsapp
"Whatsapp's current focus is probably Latin America and India."
An exciting event and speakers, a big thank you to Facebook for this organization.
➜ Discover Botnation and launch your chabot easily!