Botnation installs and hosts your web chatbot in 1 click
1. Immediate and automatic hosting of your web chatbot in 1 click ⚡️
You've made good progress on the design of your web chatbot and now you want to put it online. However, it is sometimes complicated to quickly edit your website without a developer or to have to launch a new website for :
Introduce your chatbot to a prospect, customer, your management without already having a specific website at hand to install it

Distribute your chatbot without the need for a web developer who can install the javascript tag or configure a wordpress hosting quickly

Set up a chatbot for an event very quickly

Don't have to pay for hosting and/or setup of a website in addition to your chatbot

Need a secure web address with a real and valid SSL certificate to reassure your users

Have a memorable and personalized web address for your chatbot 😉
We have the solution! Botnation offers you a secure hosting of your web chatbot in 1 click, immediately online, without having a website to install or modify on the exclusive domain name : Chatbotnation.com

We take care of everything for you, your chatbot will be immediately available online on a nice address easily memorable and diffusable such as: Chatbotnation.com/YourBot
No need for an extra budget, it's included in your Botnation package!
Your chatbot is then available in full screen, fully responsive on both desktop and mobile. You can customize your chatbot with a title bar, a background image, theme colors etc…

2. A few seconds are enough to put your chatbot online.
On the Botnation interface for designing your chatbot, click on the "Activate" button in the upper right corner. All you need is a valid Botnation offer.

Choose your personalized address, it will be automatically linked to the Chatbotnation.com domain and immediately accessible online at https://chatbotnation.com/YourAdress
The Chatbotnation website is also secure, with SSL encryption, to reassure your chatbot users.
Your personalized address should only contain letters of the alphabet [a-z] or numbers [0-9], no special characters [!#$].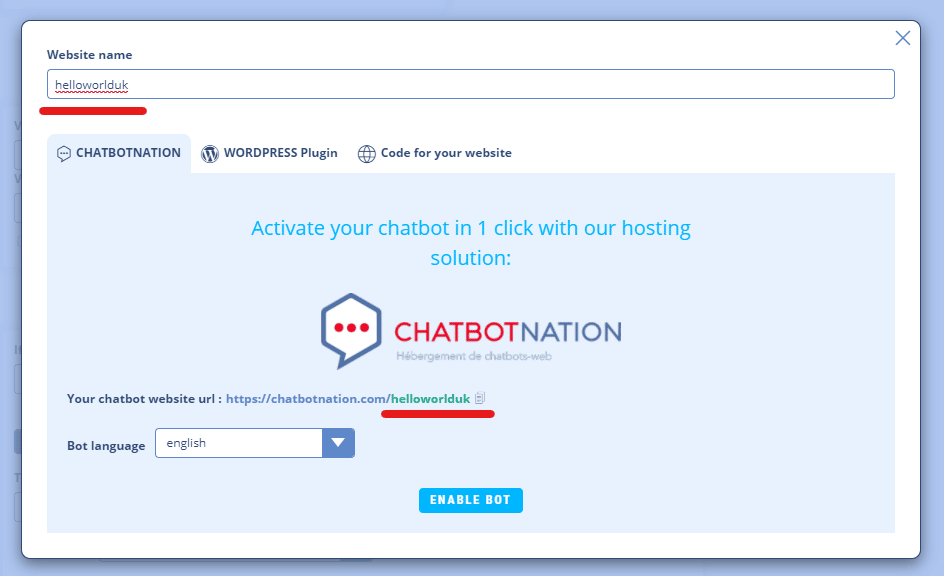 3. And that's it!
Your Chatbot is immediately activated, you can access it through your personal address (url). You can copy it by clicking on the copy/paste icon that appears to the right of it.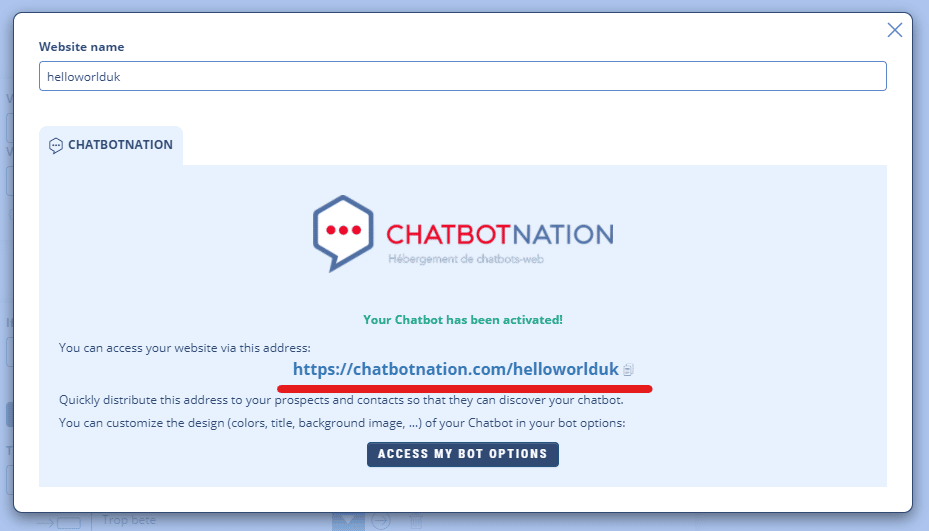 Spread this address to all your prospects and contacts so that they discover and use your chatbot.
4. Some tips 😀
Nothing prevents you from setting an original personalized address (example: chatbotnation.com/r2d2c3po) in order to be sure that no one discovers your project if it has to be validated by your client or management before its diffusion. You can change this personal address later if necessary.
If you want to have your own domain name, for example Agence-Chatbot.fr, you can buy a domain name from a registrar and automatically redirect it to your personalized Chatbotnation.com address. This is an option that is generally offered free of charge by domain name management organizations such as Gandi, Netim, Eurodns, etc…

You can temporarily disable your web chatbot. Your personal address will then be kept as long as you have a valid Botnation offer.
Plus:
– Discover Chatbotnation
– Customize your Web Chatbot
➜ Discover Botnation and launch your chatbot easily!