Export and adapt your web chatbot to make it a chatbot for your Facebook page.
Do you have a Web chatbot and want the equivalent on your Facebook page? Botnation makes it possible.
Some features are inherent to web chatbots, and we'll also look at how to replicate them on a Facebook Messenger chatbot.
➜ Discover Botnation and launch your chatbot easily!
1. Exporting your Web chatbot
You have noticed that your Botnation space has several tabs corresponding to the platforms on which your chatbots are present. For our purposes, we will focus on the Facebook and Web & WordPress tabs: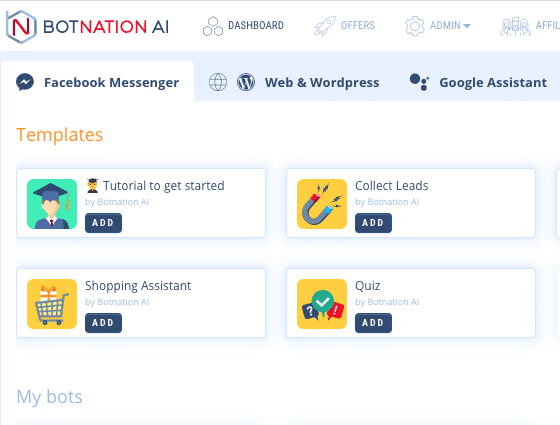 Go to the "Web & WordPress" tab, where your current chatbot is located. The aim is to export it for Facebook Messenger compatibility.
Move the mouse cursor over the name of your web chatbot :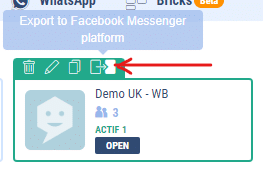 A banner appears with 4 options (Rename / Duplicate / Export / Archive). Select the "Migrate" option. A warning message appears. Confirm the operation by clicking on "Export":

Now your copy of the chatbot is on the Facebook Messenger tab, and all you have to do is upgrade it to retain the original features.
2. Adapting your chatbot
Now that you have completed the migration, you need to check that everything is working properly. For this, a quick tour is sufficient. However, some features are specific to web chatbots and need to be adapted.
Webist, Multiple Choice List, Calendar and GPS
All these functions behave differently depending on the channel. In their Chatbot Web version, they blend into the conversation flow, but in their Facebook Messenger equivalent, they require you to click on a button to open the feature in a webview.
Related articles:
– Weblist (Messenger)
– Multiple choice list (Messenger)
– Calendar
– GPS (Messenger)
Evaluation
This feature has no equivalent on Facebook Messenger. So you'll need to adapt the content using other features like Quick Replies.
Capturing first and last names
On Messenger, the chatbot automatically retrieves these two pieces of data. You can therefore delete the sequences that captured them using User Input.
Capture email and phone number
Messenger has exclusive features that simplify the capture of both these data items. We therefore recommend that you use them to replace their equivalent in your Web chatbot.
Text in bold, italics and color
There's no equivalent on Facebook Messenger, so if you've used these options, you'll need to remove the codes from your texts.
Button labels and quick answers
Button labels and quick responses on web chatbots can be up to 25 characters long. However, on Messenger, they are limited to 20 characters. You'll need to rename all your buttons that exceeded 20 characters.
More features on Messenger
There are some features that are exclusive to Messenger that you should consider using:
Plus:
– Exporting your Facebook Messenger chatbot to a web chatbot
➜ Discover Botnation and launch your chatbot easily!