Marketing automation has become a key strategy for companies that aim to optimize their sales, and especially to save time in terms of sales process. Today, Salesforce, a platform that has become a market leader, offers companies solutions that allow them to automate their marketing strategy. Find out more about the features available on Salesforce and the benefits for businesses of using this platform.
➜ Discover Botnation and launch your chabot easily!
What is marketing automation?
Marketing automation is the use of technological tools to automate marketing actions. With marketing automation, you can send emails, create advertising campaigns, track leads and analyze data. The goal is to personalize your campaigns with information about your customers, their habits and preferences. In other words, you improve the customer experience just by using data about your customers and prospects.
Salesforce, the features available on the platform
Salesforce is a cloud-based CRM platform with a variety of features that give you an overview of your company's various departments.
One of the most important features of Salesforce for marketing automation is its ability to manage data efficiently. Salesforce brings all customer and prospect data together in one place, providing a comprehensive view. With this information, companies can create personalized customer journeys to ensure that each customer receives the most relevant content for their needs.
In Salesforce, there are many features such as Pardot, which is a B2B marketing automation solution, as well as Marketing Cloud, a mass marketing solution.
Pardot
Pardot is one of the key tools for marketing automation that Salesforce makes available to companies. Pardot is a B2B marketing automation solution that guarantees the following benefits:
Create personalized customer journeys;
Measuring the effectiveness of campaigns;
Create custom lead capture forms;
Track the activities of prospects when they visit your website;
Categorize prospects based on their level of engagement.
Using Pardot, marketers can create marketing campaigns using workflows. They can schedule emails to a predefined contact list, create tasks for sales representatives and segment prospects. With Pardot, companies can also create nurturing campaigns for prospects who are not yet ready to buy, but may become so.
Marketing Cloud
There is also the Marketing Cloud. Another solution for marketing automation with Salesforce. The Marketing Cloud allows companies to create and deliver mass marketing campaigns, such as email campaigns and targeted social media ads. As for the specifics of the Marketing Cloud, this tool allows companies toperform a complete analysis of data. The goal is to quantify the results of the campaigns and ensure the effectiveness of their marketing strategy.
The strengths of Salesforce
In addition to these tracking tools, Salesforce also offers sales management tools to help companies track leads, opportunities and accounts. With these Salesforce sales tools, companies can track the activities of their prospects, score them based on their level of engagement, and qualify them based on their sales potential. Marketers can also use sales data to tailor their content and campaigns based on prospects' needs.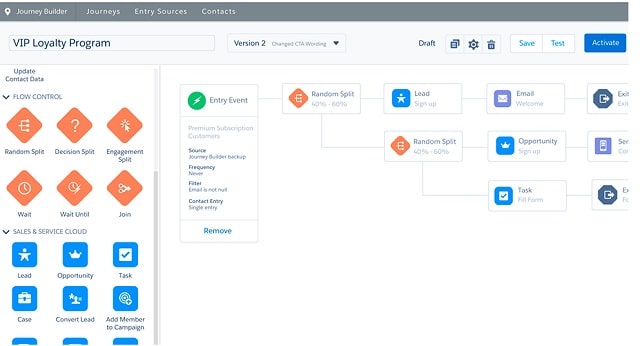 In addition to Pardot and Marketing Cloud, Salesforce also offers a range of tools to help companies automate their marketing:
Salesforce Campaigns allows you to manage marketing campaigns, track results and measure the impact of campaigns on sales;
Salesforce Email Studio allows you to create and deliver personalized mass emails, with tracking capabilities to measure the effectiveness of each email sent;
Salesforce Social Studio, which lets you manage multiple social media accounts from a single platform. Companies can plan and publish posts, track comments and mentions, and measure the effectiveness of their social media campaigns.
Salesforce offers data measurement capabilities to help companies track the performance of their marketing automation campaigns. Companies can track email open rates, click-through rates, conversions and other key performance indicators to measure the effectiveness of their campaigns.
Salesforce makes it possible to measure the impact of each campaign on sales and track customer journeys through the various stages of the sales process.
Some things to remember about Salesforce
For marketing automation to be effective, it is important to create a clear and well-defined strategy. Companies must know their target audience, detect their needs and behaviors to create effective campaigns. Businesses also need to create relevant, quality content to grab the attention of prospects and engage them in the sales process.
In addition, it is important that marketers are equipped with the necessary skills to effectively use marketing automation tools. That's why companies need to invest in training and development of their marketers to ensure they use the tools effectively and efficiently.
Let's face it, marketing automation with Salesforce offers a lot of opportunities for businesses. Using Salesforce's tools, companies can create effective, personalized campaigns (Pardot, Marketing Cloud, etc.).
The chatbot in marketing automation
Marketers in automation choose to use chatbots for different reasons. Therefore, we will mention only a few of them:
One of the specificities of chatbots is the possibility to use them to send proactive messages. By choosing the right message, companies can succeed in arousing a prospect's interest, inviting him to click and then continue the conversation until he makes a purchase;
With a chatbot, companies can also improve their brand reputation. Indeed, the Internet users will have at their disposal a platform through which they will obtain a fast and precise answer to their questions. Isn't that the best way to prove your professionalism?
Using marketing automation means automating tasks. By using a chatbot in your marketing strategy, you can dispense with time-consuming tasks. Indeed, it happens that your customers ask the same questions, make the same requests. With a chatbot, you are free of it;
Know that customers are looking for a company that offers fast and quality service. By providing your customers with a chatbot, you are betting on customer satisfaction.
In conclusion, marketing automation with Salesforce offers many benefits to businesses, such as tracking prospects and customers through their buying journey. By using automation tools such as Pardot, Marketing Cloud and other sales management tools, companies can automate marketing processes, improve customer experience and increase sales. Salesforce also tracks and analyzes data to measure campaign effectiveness and adjust marketing strategy accordingly.
➜ Discover Botnation and launch your chabot easily!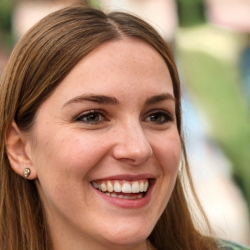 Latest posts by Amandine Carpentier
(see all)