Currently, professionals worth their salt are opting for marketing automation tools. Indeed, to keep up with the trend and stand out from potential competitors, the solution for companies is to turn to automated marketing tools.
Are you looking for an automated marketing solution to make your job easier? Plezi could be the alternative you need. With this innovative marketing tool, simplify your tasks and gain in efficiency. Let's review the essentials about Plezi software.
➜ Discover Botnation and launch your chabot easily!
What is marketing automation?
Marketing automation is a method of automating certain regular tasks to deliver personalized messages to consumers in order to build loyalty. This type of solution allows companies to stay in touch with their customers and prospects, while offering them relevant and individualized content.
This automated marketing solution has many advantages:
Marketing campaign automation;
Increased productivity and ROI (or return on investment);
Segmenting prospects more precisely;
Better marketing performance for the company;
Centralization of prospect information and lead tracking.
There are many marketing automation tools to choose from, but let Plezi marketing automation software tempt you.
Plezi, the marketing automation tool
Want to implement an automated marketing strategy? Plezi is an intuitive and easy-to-use software that will help you boost your business. It will offer you an unequalled efficiency thanks to its innovative and powerful features.
With Plezi, you can easily create :
Email campaigns;
Marketing task automations;
Scenarios or workflows;
Web pages and pop-ups.
This program will allow you to segment your contacts in order to send them personalized messages. Your visitors will also be able to browse your website freely and fill out forms to collect valuable information.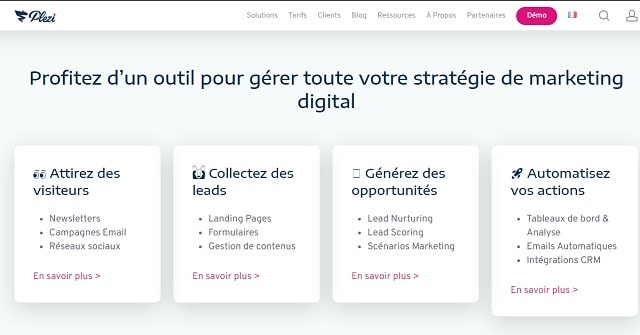 Plezi is a marketing automation solution that offers a variety of features to help businesses manage their marketing campaigns more effectively.
Take advantage of Plezi's key features
To take full advantage of the features offered by Plezi marketing automation software, you should consider the following points:
Plezi's tools allow users to track and engage prospects;
Plezi helps to score leads based on their level of interest, and to create personalized content scenarios based on their behaviors;
The software also allows users to segment their contacts according to different criteria and create targeted email and SMS campaigns;
With Plezi, clients have a comprehensive CRM that allows them to track the actions and interactions of prospects and customers, allowing them to adjust their marketing strategy in real time;
The software is in French and is easy to use. It features an intuitive interface that allows users to quickly create content campaigns, send emails and SMS, and track the actions of their prospects and customers at any time ;
Plezi customers can benefit from educational content on the company's blog, which covers a variety of marketing and automation topics.
Be aware that Plezi's marketing automation features can be integrated with other software such as HubSpot, Sendinblue or LinkedIn. This provides clients with a complete solution to manage the inbound and outbound marketing of their business.
Automated emails
With this tool, you can easily program the sending of personalized emailing campaigns according to your marketing strategy. This allows you to automate post-purchase and post-subscription messaging, and analyze the performance of your campaigns in detail.
Contact segmentation
Rank your contacts and send more relevant messages with Plezi's advanced segmentation. Define mailing lists according to predefined criteria (location, age, gender, etc.) and improve the open rate of your emails.
Lead tracking
Track your leads and gain valuable insights at every stage of their conversion cycle. Track their browsing history on your site and the pages they have visited, measure their engagement and analyze their interactions with your brand.
With Plezi, take advantage of a professional and complete tool that will accompany you in the automation of your marketing strategies. Centralize your data, optimize the effectiveness of your campaigns and improve the performance of your business.
Another fact you should know about this tool is the price of Plezi software. Indeed, the price of this marketing automation tool is adapted to the needs and budgets of all businesses, and a free trial offer may be available for new customers.
Plezi is a powerful marketing automation tool at an affordable price. This marketing automation tool offers a variety of features to help businesses manage their marketing campaigns effectively.
➜ Discover Botnation and launch your chabot easily!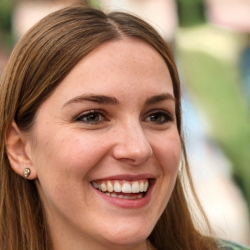 Latest posts by Amandine Carpentier
(see all)