Marketing Automation has become a must for companies looking to optimize their communication strategy. Sendinblue is a very powerful tool to implement such a strategy. In this article, we will discover how to do Marketing Automation with Sendinblue.
➜ Discover Botnation and launch your chabot easily!
What is Marketing Automation?
Marketing Automation is a method of creating automatic and personalized communication campaigns using specific tools. This method allows you to send emails, SMS and web messages to contacts based on their interactions on your website, on social networks and in the emails you send them.
Marketing Automation is very useful for companies looking to streamline their sales process and personalize the messages they send to their customers. A method that aims to reach customers at the right time with the right message.
Sendinblue, a solution for Marketing Automation
Sendinblue is an all-in-one marketing solution that allows you to create, send and track marketing campaigns (email and SMS). This platform offers a wide range of features to edit your campaigns and create a sense of ownership with your customers.
Considered as a CRM solution, Sendinblue allows you to manage your contacts and track their interactions with your company. This platform is equipped with an interface, as well as a landing page editor.
Sendinblue features for Marketing Automation
Sendinblue has many features that can be used in marketing automation, such as creating marketing scenarios, managing contacts, creating landing pages and creating email and SMS campaigns. Here are some of the most important features of Sendinblue for Marketing Automation:
Contact management: Sendinblue makes it easy to manage your contacts, create lists and segment them according to their behavior and preferences;
Creation of marketing scenarios: Sendinblue offers a marketing scenario editor to create automated workflows based on the actions of your contacts. This allows you to send personalized messages based on the data storedabout them;
The creation of emailing campaigns: practical to create personalized emails according to the needs of your contacts. You can also quantify the result and edit a table to summarize your campaigns and especially write a detailed report;
Writing your SMS campaigns: Sendinblue allows you to create personalized SMS campaigns for your prospects via their telephone contact. A feature that is very useful to reach all your contacts;
Landing page creation: Sendinblue offers a landing page editor, encouraging your customers to perform a specific action;
Managing the quality of your emails: Sendinblue has a feature that allows you to test the quality of the emails you want to send;
Social network management: thanks to Sendinblue, you can manage your social networks and publish in various formats according to the specificities and requirements of each platform.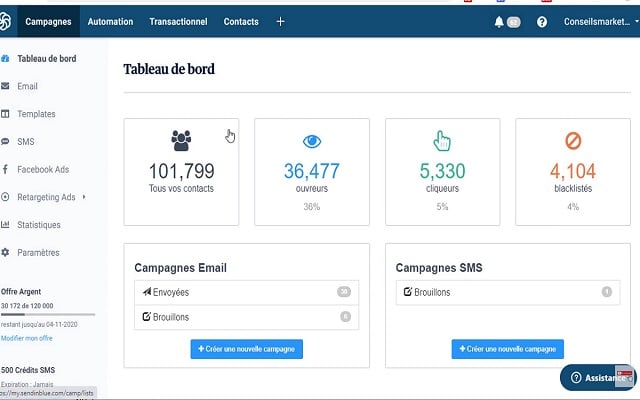 Using Sendinblue: how does it work?
To use Sendinblue, you must create a free account on the platform. You can then import your contact list and start creating your marketing campaigns. Here are the steps to follow to use Sendinblue for your Marketing Automation:
Create your contact list: to import your contacts into Sendinblue, you will have to convert the file into a CSV or add them manually to the platform. You can also sort your contacts based on the data you have recorded about them: behavior on your web page, product and/or service preferences, etc. ;
Edit your marketing scenarios: this is possible just by using your contact information. For example, you can create a scenario that sends a welcome email to a new contact, followed by a reminder email a week later;
Create your emailing and SMS campaigns: you can use this campaign editor to create personalized emails. To do so, write an email through which your contacts will feel concerned by your message;
Create your landing pages: you can edit personalized pages that will invite your contacts to perform a specific action, such as signing up for a newsletter or buying a product;
Track the performance of your campaigns: you can receive a detailed report of your campaign results. You can, for example, track the open rate, click rate, conversion rate and much more;
Benefit from a CRM: Sendinblue has a well-enriched CRM that allows you to manage your contacts and track their interactions with your company. You can create your campaigns based on their behavior when they visit your website, your social media pages and the emails you send them.
The advantages of Sendinblue for Marketing Automation
Sendinblue offers many advantages for marketing automation. Here are the main advantages of this platform:
An all-in-one solution: with Sendinblue, you can manage all stages of your marketing campaigns from a single platform;
Easy to use interface: Sendinblue comes with an intuitive and easy to use interface, even for novice users;
Powerful features: this platform allows you to create messages (email or SMS) that align with your customers' needs, just by using the information stored in your databases;
Competitive rates: Sendinblue is presented on the market at very competitive rates. It remains accessible to all, even small businesses;
Quality support: by choosing Sendinblue, you have chosen to work with a team of experts who are always available to answer all your questions.
A chatbot in your marketing campaign?
Chatbots are currently among the most used tools by companies to stay in touch with their customers and are usually integrated in a marketing strategy. Indeed, the Internet users appreciate the fact of receiving a fast and precise answer to their request. Instead of calling your support team, your customers will prefer to go to your website, and ask for your advice via your chatbot.
Did you know? Chatbots remain an essential tool to convert your prospects into customers. Indeed, thanks to a chatbot, you can:
Suggest a product to a visitor of your website;
Guide a customer to complete a purchase;
Recommend a product to a new customer.
Also, consider using this chat system as a major tool to maintain your brand's reputation, inform your customers about the release of a new product or service, stay in constant contact with your customers, etc.
That's the whole point of installing a chatbot on your web page.
Sendinblue is a very powerful solution for Marketing Automation. This platform offers a wide range of functionalities to write your marketing campaigns and perfect your customer relationship. Sendinblue is also a CRM solution that collects data about your contacts and prospects. Using Sendinblue, you can create automated and personalized marketing campaigns.
➜ Discover Botnation and launch your chabot easily!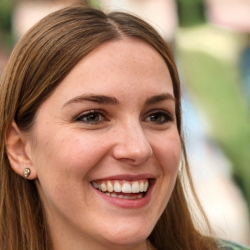 Latest posts by Amandine Carpentier
(see all)